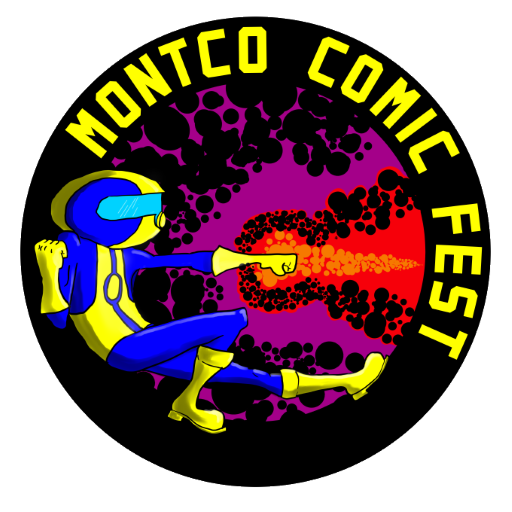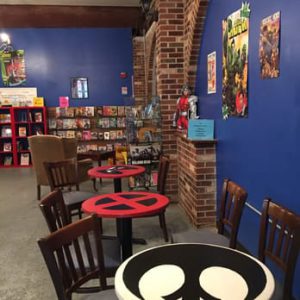 Amalgam Comics & Coffeehouse is a comic book store and coffee shop hybrid located in the Kensington section of North Philadelphia.
Amalgam Comics & Coffeehouse is a celebration of geek culture. A place for comic book fans, hardcore gamers, movie addicts, television connoisseurs, and zombie apocalypse survivalists to meet, and with their powers combined, change the world a little bit.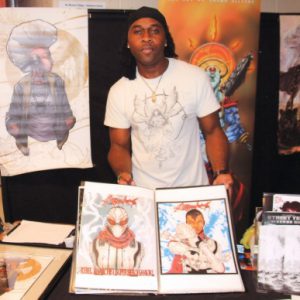 Shawn Alleyne is a Freelance Artist, Writer and Instructor who lives in Philadelphia. He was originally born and raised in Barbados, and fuses sci-fi, hip-hop, mythology and his Caribbean roots to craft his works. His company is called Pyroglyphics Studio and translates to "hot images" to reflect his gritty self taught style.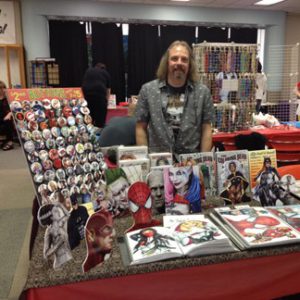 David Bancroft is an artist based outside Philadelphia in Collegeville Pa. His artwork features a dynamic toned pencil style in comic, movie, TV and horror illustrations. For more info on commissions or original art go to www.dmbillustrations.com or etsy.com/shop/dmbIllustrations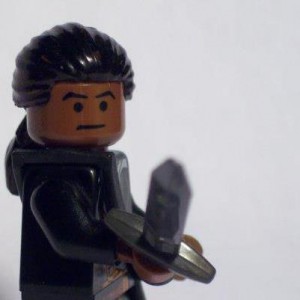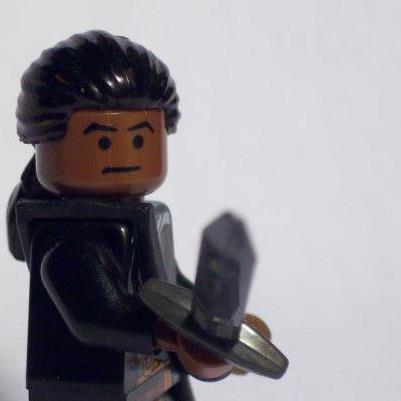 Keville Bowen, a Delco local, loves to use his Media Arts and Animation degree to teach others. He best known for his Lego Stop-motion and Comic Book Workshops across the Delco and MontCo library system, but those interested in his art can read his webcomics at Kebiru.deviantart.com.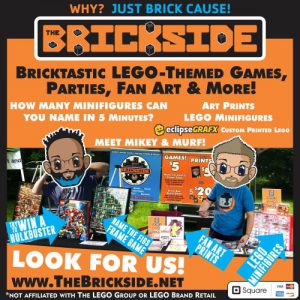 The Brickside is the combined effort of Just Brick Cause and Busload of Penguins. They bring a variety of Lego and Pop Culture Themed Art and Entertainment, all family friendly!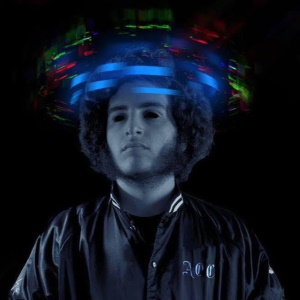 Art of Cundro is the things you see during your sleep paralysis brought to life. It's surreal art of creatures and places in stark pen and ink style. It's something you can own on pins, stickers, prints, shirts, and more! See it at http://www.artofcundro.com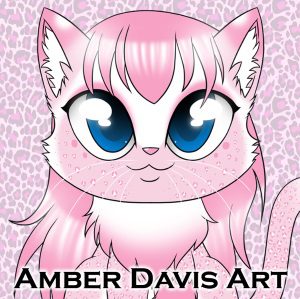 Amber Davis is a freelance illustrator based out of Philadelphia. She draws and crafts all things cute and nerdy! You can see her work on her website www.AmberDavisArt.com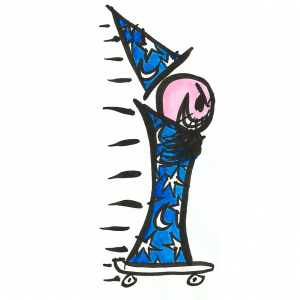 Andrew Davis is the creator of the long-running webcomic "Samantha Comics by Samantha Ann Peartree, age 5" and has recently completed a zine of mazes inspired by the classic game "Chip's Challenge." If you want to talk about maze-making, fictional five-year-olds, cartoons, or 8-bit music-making, he's happy to chat!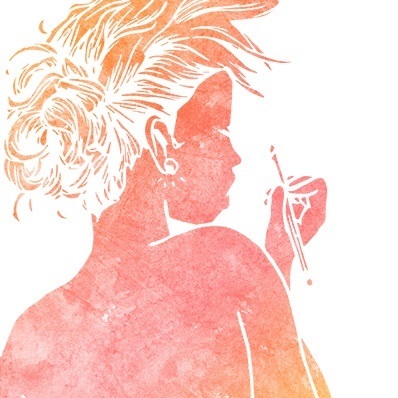 Dirty Diamonds is an award-winning all-girl comic anthology based out of Philadelphia, edited and published by middle school best buds Kelly Phillips and Claire Folkman. The goal of Dirty Diamonds has been to give female and femme comics creators a dedicated outlet for telling their stories, and hundreds of artists from around the world have contributed their semi-autobiographical works, highlighting both their talents and unique experiences. Each issue features comics around a central theme, including: Beauty, Imagination, Being, Sex, and Death.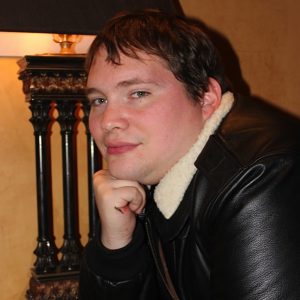 Joshua Goldstein is a graduate of Stockton University and the author of four graphic novels and one novel. Including Maccabee Lady:Exodus recently reviewed.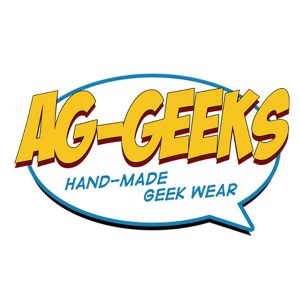 Auriel Glanville studied Fashion Design at the Art Institute of Philadelphia. She has always had an eye to be innovative and creates accessories that represent geek culture.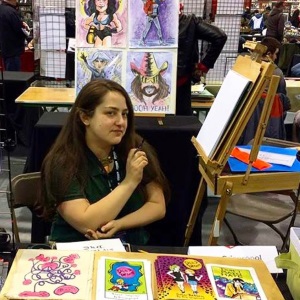 Dre Grigoripool is a Philadelphia based award-winning cartoonist and designer. Currently, she has a studio at The Soapbox: Community Print Shop & Zine Library where she is also a board member. Her website is www.dretime.net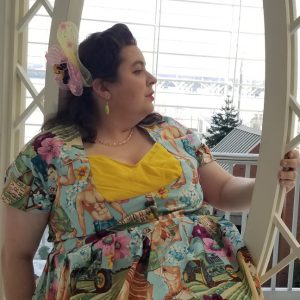 Rose Moran is a fan of anime and many other pop culture things and likes to craft cute and fun things inspired by those interests!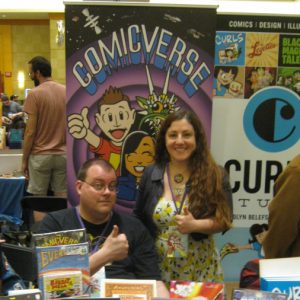 Steve Peters received a Xeric Grant to publish Awakening Comics, had a series called Everwinds published by Amaze Ink, and won the Gene Day Memorial Prize for the Chemistry comic and Soundtrack CD. Bianca Alu-Marr is a writer of poetry, short stories and screenplays, all of which she hopes to publish one day. Their current comic book project, The Comicverse, is an award-winning sci-fi comedy about a comic book shop in outer space.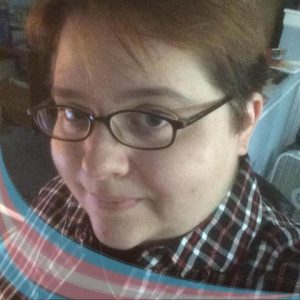 Connor Peterson is a USA Today bestselling author of LGBTQ+ urban fantasy and dark, paranormal romance, local to the Philadelphia, PA area. He is also co-owner of the small press, Crimson Melodies Publishing, and a volunteer as a municipal liaison for National Novel Writing Month.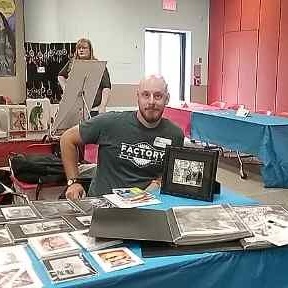 Josh Toritto is an artist trained through the Perkins Center of the Arts. As he finds most modern cartoons and portraits to be somewhat lacking in the simplicity or humor that their predecessors possessed, Joshua's overall style and feel to each piece, in a sense, serves as a means of remedying this, yet still exhibit a unique, rawer look about them. Joshua hopes that by creating such artwork, he fills all those who look upon it with a simple joy and nostalgia for art of yesteryear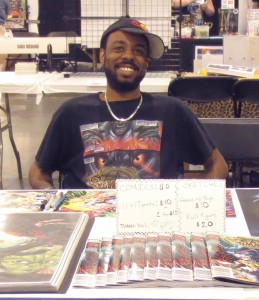 Chris Williams is a comic artist, writer and creator. After earning his BA in Animation & Media Arts in 2008 from the Art Institute of Philadelphia, Chris has sold many illustrations, logos, graphic art and commissioned work locally and internationally. Some of his notable published works include cover art for Big Dog Ink (BDI)'s "Critter" & "Penny For Your Soul", Kenzer & Co.'s "Knights of The Dinner Table", Markosia's "Geek-Girl", Source Point Press' "Salvagers" & "Franklin & Ghost", as well as promotional art for award-winning photographer, Nick Saglimbeni and his slickforcegirl.com site. Chris is currently working on his creator owned comic series, "SUMMONS", among other upcoming indie titles.