Online Application
The library is pleased to offer a temporary library card so that you can access our online digital resources and services such as ebooks, audiobooks, emagazines, remote computer classes, etc. Please click the Online Library Card Application button below to apply. Once submitted, a library card number will be emailed to you with further instructions and links to resources. To receive your physical card, please bring your ID with a current address to the Montgomery County-Norristown Public Library within a month from the date the barcode is issued to you. If you wish to pick up your card either from one of our branches or bookmobile please call us at 610-278-5100 X 0.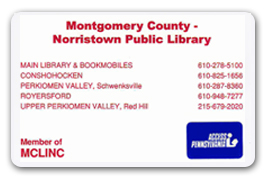 If you are a resident of Montgomery County, fill out the library card application and bring identification and proof of address (driver's license, car insurance, rental lease or utility bill) to the library.
A child's application (under the age of 18) requires a parent or guardian's signature.  The parent or guardian must present identification and proof of residence.
If you do not live in the library's service area, we can issue you a library card without a PA Access sticker which will give you limited access. Otherwise, you can go to your home library to be issued a library card with a PA Access sticker.  Once you have your card, you can use it at almost any public library in the state of Pennsylvania.
The Montgomery County-Norristown Public Library also makes corporate cards available to all organizations in Montgomery County. This type of card enables organization members to borrow library materials for use within their facilities.
How long can I keep materials?
Print Books
Print Books (new)
Audiobooks
21 days, 2 renewals
New fiction
14 days
Downloadable eBooks & Audiobooks
14 days by default
(can be changed to 21 days)
Rental and Bestseller books
7 days/$1.00
Children's Holiday Materials
(excluding DVDs)
7 days
Magazines (back issues)
7 days, 2 renewals
Music CDs
21 days, 2 renewals
Nonfiction DVDs & Blu-rays
21 days, 1 renewal
DVDs & Blue-rays
7 days/$1.00
TV Show DVDs
Multidisc DVD sets
7 days/$2.00, 1 renewal
Video games
7 days, no renewals
New Release DVDs & Blu-rays
2 nights/$1.00
Elmwood Park Zoo Pass
3 days
(limited to members of the Friends of the Library)
What are the fees if materials are overdue?
Adult books
Young Adult books
CDs
Audiobooks
$0.15 per day
(maximum charge per item: $8.00)
Children's items
$0.10 per day
(maximum charge per item: $6.00)
Magazines
$0.15 per day
(maximum charge per item will not exceed the cost of the item)
Video games
DVDs
Blue-rays
$2.00 per day
(maximum charge per item or set: $30.00)
What is the charge for a replacement library card?
Adult cards
$3.00
Children's card
first replacement $1.00
$3.00 thereafter
What is MCLINC?
The Montgomery County-Norristown Public Library is part of the Montgomery County Library Information Network Consortium (MCLINC), which means that you have access to over 2 million items in the combined catalogs of 34 public libraries. Once you register for a card at any of the MCLINC libraries, you can reserve items online and have the items shipped to any other MCLINC library or Bookmobile.
Google Map of MCLINC libraries
Map of MCLINC libraries (for printing)