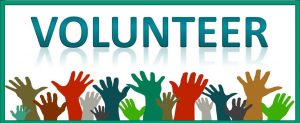 Are you interested in volunteering at the Library?
There are many different ways you can help. Our library is very proud of its talented and diverse group of volunteers. With the guidance and support of Library staff, volunteers can donate their time, extending the reach of the Library and getting the community involved in reaching library goals. The library relies on volunteers and we try to involve volunteers in meaningful and interesting work.
Volunteering & Community Service
Please note the following:
Volunteers must be at least 14 years of age.
Under Pennsylvania law, volunteers age must complete a number of background checks prior to starting service. Completion of these background checks can take as long as six weeks.
Volunteers must also undergo training prior to starting service.
Before they can start helping at the library, volunteers need to sign a Volunteer Agreement and Waiver. This will be sent to prospective volunteers for their review once they submit a completed Volunteer Application.
Community Service requirements for school or other organizations may be fulfilled at the Library.
How to apply:
Download and fill out the relevant application:
Send or bring your completed application to the branch where you are interested in volunteering, as follows:
Note: You can also fill out a volunteer application in person at any of our branches.
Questions
To inquire about volunteering in the library, please contact the specific branch where you are interested in serving.