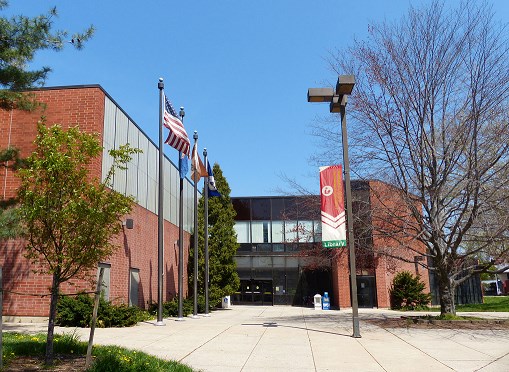 The Montgomery County-Norristown Public Library, a gateway to lifelong learning, provides convenient access to resources that inform, educate, entertain, and enrich people's lives. We are Connected to the World, Committed to the Community, and Inclusive of All.
Karen J. DeAngelo began her tenure as Executive Director and District Administrator of the Montgomery County-Norristown Public Library on March 1, 2021. Read the press release.
History
The Library's roots go back to 1794 and the founding of the "Norristown Library Company" by 90 families residing in Lower Merion, Norriton, Plymouth, Providence, Whitemarsh, Whitpain and Worcester Townships. The Library was formally incorporated in 1796. One of the signers of the Declaration of Independence, Pennsylvania Supreme Court Justice Thomas McKean, signed the charter issued in March 1796 establishing the corporation. Read more about the Library's history
Location
We are located on the corner of Swede and Elm and Powell streets. There is free parking available under the building on the side facing Swede Road.
Address:
1001 Powell St
Norristown, PA 19401
Phone:
(610) 278-5100 ext. 0
Fax:
(610) 277-0344
Hours
Building:
Mon-Thurs: 9am-8pm
Fri: 9am-6pm
Sat: 9am-5pm
Computers:
Mon-Thurs: 9am-7:45pm
Fri: 9am-5:45pm
Sat: 9am-4:45pm
Curbside pickup:
by appointment

Our Staff
Administration
Karen J. DeAngelo
Executive Director
610-278-5100 ext. 140
kdeangelo@mclinc.org
Michael Angstadt
Coordinator, Automation & Technology Services
610-278-5100 ext. 125
mangstadt@mclinc.org
Main Library
Thomas S. Fluharty
Director of Operations
610-278-5100 ext. 146
tfluharty@mclinc.org
Jeanne Cove
Head, Adult Programs and Outreach
610-278-5100 ext. 400
jcove@mclinc.org
Jamie Albrecht
Head, Adult Services
610-278-5100 ext. 112
jalbrecht@mclinc.org
Loretta Righter
Head, Reference Services
610-278-5100 ext. 201
lrighter@mclinc.org
Karen Mitchell
Head, Children's Services
610-278-5100 ext. 205
kmitchell@mclinc.org
Margaret Walk
Head, Technical Services
610-278-5100 ext. 118
mwalk@mclinc.org
Susan Horning
Head, Bookmobile, Outreach, and Interlibrary Delivery Services
610-278-5100 ext. 109
shorning@mclinc.org
Matthew Wielgus
Head, Interlibrary Loan
610-278-5100 ext. 121
mwielgus@mclinc.org
Branches
Holly Holst
Branch Manager, Conshohocken Free Library
610-825-1656
hholst@mclinc.org
Aileen Johnson
Branch Manager, Perkiomen Valley Library at Schwenksville
610-287-8360
ajohnson@mclinc.org
Addy Brady
Branch Manager, Royersford Free Public Library
610-948-7277
abrady@mclinc.org
Sam Pharo
Branch Manager, Upper Perkiomen Valley Library
215-679-2020
spharo@mclinc.org