======================
SAMPLE MARQUEE:
Expiration date format: "yyyy-mm-dd hh:mm" (24-hour time)
======================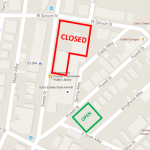 Swede Street Parking Lot Closure
Beginning
Wednesday, September 23
, the main library's Swede St. parking lot will be closed until further notice. Please use street parking or the parking lot on Powell St. across from the library's main entrance. Thank you for your patience as we take this step toward improving our facility.
Main Library & Branches Events
Main Library News
Ongoing Programs
Please join us for the following regular programs at the Main Library read more...
---
Attention movie lovers! Come to the Main Library on December 9, to watch
"White Christmas" At 1:00 p.m. in the Board Room for Wednesday matinee. read more...
---
Giving Tuesday 2015
The Montgomery County-Norristown Public Library needs help to DOUBLE its e-book collection! read more...
---
Pennsylvania Online Voter Registration
PA now has online voter registration! read more...
---
Registration Ongoing at Main Library for Fall 2015 Term of Computer Classes
Classes are held in the Main Library Computer Lab. Advanced registration is required. We offer seven computer classes for the general public. read more...
---
Device Advice at The Main Library
Get caught up with modern technology. read more...
---
TumbleBook Library for young readers
TumbleBook Library – aimed primarily at young readers and readers to be, these animated stories encourage a love of reading. Puzzles and games also accompany many stories.
---
Learn a Language with Mango
The Mango Language Database helps you learn or improve your foreign language and English language skills.
---
Upcoming Events@Main Library
| | |
| --- | --- |
| | Sign up to receive the weekly Wowbrary newsletter about new additions to our collection and exciting events at the library. |