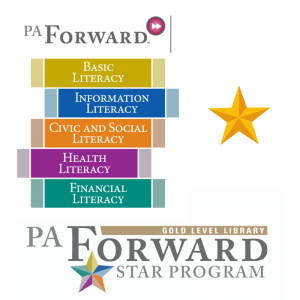 Libraries are moving PA Forward! Pennsylvania's libraries are community centers of information, technology, and learning that fuel educational and economic opportunity for all citizens.
Pennsylvania's libraries promote the essential literacies people need to meet life's demands, and reach their greatest potential. And now, through the "#PAForward" initiative, libraries across the Commonwealth are speaking with one voice to highlight the ways in which they foster literacy. The Montgomery County-Norristown Public Library is proud to join this effort.
MC-NPL promotes literacy with our collection and our programs and events. Our offerings promote the five literacies that are the backbone of PA Forward: Basic Literacy, Information Literacy, Civic and Social Literacy, Health Literacy and Financial Literacy. By promoting essential literacies, libraries are powering a better future for everyone.  Literacy is power, and libraries–including MC-NPL–are moving PA Forward!