Computer Class Information

About

Hours

Contact

Policies

FAQ

Computers

Printing & Services

eBook Help

Class Resources
The Computer Lab is located on the first floor of the Library, next to the main Circulation Desk. We have 16 computers at comfortable sit-down workstations. We are open for public-access computing during the same hours that the library is open with the exception of the last half hour of each day and the occasional closure for computer classes.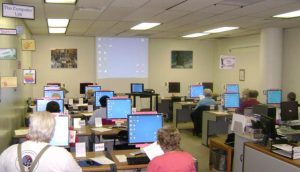 To use the Computer Lab, you'll need a library card in good standing, meaning no overdue materials or fines. You will need an internet sticker on your card, given at the main Circulation Desk. If you forget your card or are just visiting for the day, with proper I.D. you can get a day pass.
You are guaranteed at least one half hour on a computer. When we are busy, users are rotated out depending on who has been using a computer the longest. If you get rotated out, you can come back in a half hour. We don't limit how many times you can come back.