The Library provides free, wireless access to the Internet.
How to Connect
Connect to one of the following networks, depending on where you are in the building (see map below): MNL Public WiFi, MNL Public WiFi Extended, MNL Public WiFi Rear
The Acceptable Use Policy should appear shortly after connecting. You must agree to this in order to connect. If it does not appear, open a web browser and navigate to: www.mc-npl.org
Wireless Access Points
The Library has wireless access points throughout the building, shown in the maps below. Any other access points that you see on your wireless device are not owned by the Library. Please do not attempt to access them.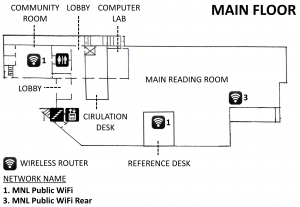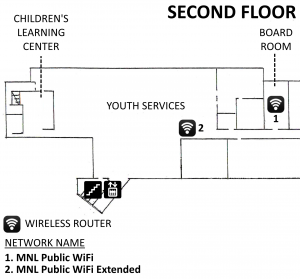 Filtering
Internet access is filtered to prevent access to malicious or inappropriate websites.  If you think that a legitimate website is being blocked by our filtering software, please contact a staff member.
Printing
The Library's public printers cannot be accessed directly over the wireless network. However, patrons can make use of the Library's mobile print service to print things directly from their personal devices. Alternatively, patrons can email themselves the documents they want to print so that they can access their email from a public workstation and print from there.
For more information on printing in the library, including fees, see the Printing page.
Hours of Availability
Wireless Internet access is available during regular library hours.
Technical Support
Technical support is not available to users for configuration of personal devices. If you experience difficulty obtaining a wireless signal within the library, please move to a location closer to a wireless access point.
Acceptable Use Policy
All computer devices using the Library's wireless Internet network are subject to the Library's Acceptable Use Policy.  The Policy outlines rules for the use of computing resources and those rules may be subject to state and/or federal legislation.  By choosing to use the Library's wireless Internet service, patrons agree to abide by the terms of the Policy.
Disclaimers
The library is not responsible for personal belongings including electronic equipment. Please do not leave your personal belongings unattended.  Patrons should have up-to-date anti-virus software to protect their personal devices and equipment.
The Library's wireless Internet service is provided by MCLINC (Montgomery County Library and Information Network Consortium).  MCLINC reserves the right to apply certain conditions to wireless Internet sessions.  Examples of such conditions include but are not limited to: session time limits, bandwidth usage limits, concurrent user limits, age limits, hours of access, or filtering.
MCLINC makes no guarantees with regard to network availability and does not guarantee a secure connection.  Patrons using MCLINC wireless Internet service agree that MCLINC will not be held liable for any damage to personal hardware or software, or for virus infections or other consequences caused by downloads while using the MCLINC network.  Patrons should have up-to-date anti-virus software to protect personal devices.  Patrons agree to indemnify and hold MCLINC and its member libraries harmless from any and all liability.