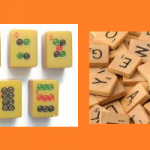 PREREGISTER for these events.
Mahjong – Interested in playing Mahjong? Join our adult Mahjong Players Group! We are a mix of new and experienced players. If you don't know how to play, we'll show you! –  Mondays at 5:30 pm.
Scrabble – A social evening with fellow spelling enthusiasts for a relaxed game of Scrabble. – 2nd & 4th Thursdays at 6 pm.(August) and 2nd & 4th Tuedays (September)
View the August and September calendar flyers for more information or our online event calendar: list view or month view.