Love Your Library this month (and every month)!!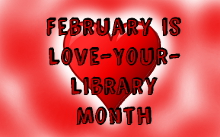 It's fun to do with a gift from the heart!
Donate $1 or $5 to get a paper heart.
Write on it what you love about your library!
We'll decorate the library with hearts!
All proceeds go to Summer Reading 2017 Program!
---
View the February calendar flyer for more information
or our online event calendar: list view or month view.