Summary
In January 2021, Montgomery County-Norristown Public Library conducted a survey designed to gauge public opinion about their experience with the MC-NPL online presence, focusing on the role of digital technology in bringing library services to people's day-to-day lives during the pandemic. Questions revolved around four areas of the library's online presence: MC-NPL's website, Facebook, virtual programming, and electronic resources.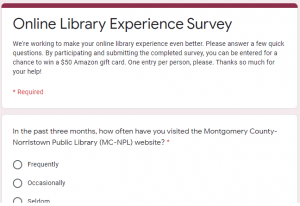 The results show that from social media to virtual programming, MC-NPL patrons have a favorable perception of their online library experience.
General Comments
The library received many patron comments that thanked our staff for their "super" service and for taking the extra steps required to enable the public to continue using the library. MC-NPL staff thanks everyone for the kind remarks.
People reported an interest in library virtual programs but many were unaware that the library provided them. The Main library and the four branches offer many virtual programs. For current listings, please click the links below:
View all programs • View Main Library Children's programs • View Main Library Adult programs
The library has a monthly newsletter where you can keep up with upcoming events and library news. Our Facebook page is also an excellent way to learn about our programs and library news.
Please help us get the word out about these programs. Tell your friends and your friends' friends!
Additionally, patrons offered suggestions for improvement, asked us questions, and requested our assistance. While we are unable to respond directly to those individuals, we do provide responses under Your Questions, Our Answers below. If you do not see your question answered or need further assistance, please contact us at (610) 278-5100 ext. 0. We will be glad to assist you.
Your Questions, Our Answers
1. Can I borrow video media online?
The library provides a collection of online video media through the OverDrive/Libby application. Alternatively, we do have a well-stocked video department with physical video media.

2. How can I learn to speak Spanish?
The library has a large collection of books, videos, CDs, and an e-Resource called Mango Language Database for learning Spanish and other languages. Contact the Reference Department at (610) 278-5100 ext. 2 if you would like help locating these materials.

3. Can you help me log into my library account?
Please call or stop by the Circulation Desk to speak with one of our staff and they can walk you through the log-in process. Circulation's phone number is (610) 278-5100 ext. 0. You can also watch this
short demonstration video
.
4. Do you allow Interlibrary Loan (ILL) book requests to be placed online?
We ask that you call the Reference Desk at (610) 278-5100 ext. 2; or stop by the Reference and Information Desk to place your request. This allows the library to gather all necessary information that ensures the request is complete.

5. When I renew an item on the website, can I change the due date?
When renewing a physical item (book CD, DVD), the patron cannot change the due date. The new due date is set automatically.
On OverDrive/Libby about 72 hours before its current due date your digital account may offer you a renewal (if renewals are available for that title). You may then renew the item if you wish. The new due date is set automatically.
Of course, all renewals are dependent on whether a current request exists for that item and how many times you have already renewed the item.

6. Can you please increase the availability of current audiobooks and large print books, and eBooks?
We take each new request for library materials that we receive into consideration with respect to our budget. If there is a physical item you want that we do not have in the shared catalog, we have an effective Interlibrary Loan (ILL) service which we use to obtain the physical item from a library outside of Montgomery County.

7. Can you make the library catalog searchable by any combination of keywords including title, author, and type?
The search function in the library catalog accepts multiple keyword combinations. There are also advanced search functions which allow patrons to narrow searches even further. If you are having issues finding what you need, please call the Reference Department at (610) 278-5100 ext. 2 or stop by the Reference Desk for help. You can also watch this
short demonstration video
.
8. Can you add Hoopla to your services?
Due to budget limitations, the library is unable to offer Hoopla.

9. Can I request materials (i.e. books, CDs, and DVDs) online and pick them up via curbside service?
Yes.  Click on
My Library Account
at the top of
our website
.  Log into your account using your barcode number and password.  Search the catalog and place your request.  You will be notified when the item is ready for pick-up.  Then call the library at (610) 278-5100 ext. 0 to request a curbside pick-up.
10. Can I schedule pickups online?
To schedule a pick-up, you must call the Library at (610) 278-5100 ext. 0. We do not offer the ability to schedule pick-ups online.

11. Can I receive text reminders that my book is ready to be picked up?
Yes.  Call the library at (610) 278-5100, ext. 0 and we will set up text reminders for you.  Alternatively, you can set up the text reminders yourself: Login to your account by clicking
My Library Account
at the top of
our website
. Once logged in, click on "Contact Information and Preferences," and enter your phone number and carrier.
12. Can you give suggestions for new authors/books based on a client's reading history?
Because of patron privacy concerns, we do not offer this automated service. Contact the Reference Department at (610) 278-5100 ext. 2; and they will be happy to suggest a book.

13. To be more environmentally friendly can you tailor the size of the curbside pickup paper bags according to the number of books being picked up?
We buy our bags in bulk to save on cost. However, the paper bags are recyclable. If you would rather not have a bag, please let us know when you call to pick up your items.

14. Can you help me get the most use out of my tablet?
As soon as we can have volunteers in the building again, we will be starting up our Tech Help appointments. While our volunteers do not teach lessons per se, they can help you understand how your tablet works.

15. I would like to use the library's electronic resources. Can you help me learn how to use the Internet more efficiently so that I can then make use of your electronic resources?
The Computer Lab offers one-on-one classes over the Internet. We would be happy to help you develop your web browsing skills. Call 610-278-5100 x. 141 to get started.
Questions about the individual electronic resources and how best to use them can be answered by the Reference Desk. Call (610) 278-5100 ext. 2 for assistance.

16. I have trouble opening your website. Will you help me?
Please call the library at (610) 278-5100 ext. 141. We can help you access our website.

17. How do I find and access digital materials such as eBooks?
eBooks, eAudio, and digital magazines are all part of the OverDrive collection.
The OverDrive collection can be accessed through the e-Read option at the top of our website's homepage and then clicking the OverDrive/Libby logo. Using your library account, you can then search for, borrow, and download eBooks, e-Audiobooks, and digital magazines to most electronic devices or computers.  Watch this short video for a demonstration of how to login to OverDrive.
Access to digital materials is also provided by OverDrive and Libby apps.

18. How do I get to OverDrive from your home page?
There is a button next to the blue My Account button named
eRead
(above the top level, red navigation buttons) that takes you to a page with a link to OverDrive. You can also bookmark the OverDrive site. Watch this
short video
for a demonstration of how to login to OverDrive.
19. Can you make Overdrive more easily searchable?
The search function in OverDrive accepts multiple keyword combinations and has advanced search options to allow patrons to narrow searches. If you are having issues finding what you need, please call (610) 278-5100 ext. 2, or stop by the Reference Department for help.

20. Can you post reading recommendations or best seller lists? Maybe you do, but I can't find it.
Recommended reading lists are available here:
http://mnl.mclinc.org/recommended-reading/
We agree navigation to that page is not intuitive. We will keep your comment in mind as we redesign the website.
We do not post a bestseller list. We will consider that for the future.

21. I'm used to walking around and getting ideas of what is new (books) at the library. Do you offer a current list of new books in the library?
22. Site navigation can be confusing. Especially when trying to access information specific to my local branch. Can you help me?
Yes. Use the box on the left side of every page where the pulldown menu list specific to branches is located. If you need more assistance, please call your library branch.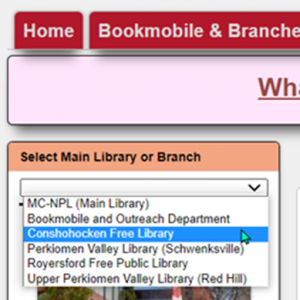 23. Why is the website off-line frequently?
The website goes down when the library power goes out. If you are experiencing more frequent downtime than the occasional power outage, please call us at (610) 278-5100, ext. 141.

24. Can you overhaul the website design to improve navigation, make the site more intuitive, less cluttered, more appealing, etc.?
Indeed, we received many invaluable website improvement suggestions, too many to mention here. We will consider all those remarks as we work on redesigning the website.

Wrap up
Our library and its branches have always been "a gateway to lifelong learning". Staff take this mission statement to heart, as we continue to learn more about our community's needs.
By participating in the survey, you've helped us grow in more ways than one. Thank you!