Imagine Your Story Scavenger Hunt
< back to list of Scavenger Hunts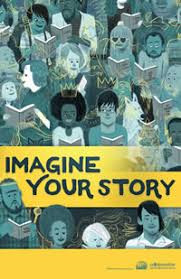 Welcome to the online Imagine Your Story Scavenger Hunt!
In order to enter:
Use the Montgomery County-Norristown Public Library's Online Resources to find the answers!
Take a screen shot or photo showing the answer in an MC-NPL digital resource and E-mailing the image to jhoey@mclinc.org
You will find our databases on our web site: www.mc-npl.org under eResources. The person who gets the most answers right will be awarded two raffle tickets towards a 23&Me Ancestry DNA kit which will be awarded on September 1, 2020.  Have fun and Good luck!
In Norse mythology, what is the Norwegian name for the World Tree?
Define the characteristics of a fable and give us an example of a fable i.e.: The Tortoise and the Hare.
In the folktale Pecos Bill, what weather phenomenon did Pecos Bill lasso and what was the name of his horse?
What was the name of the man Johnny Appleseed was based on and give us a true fact about him?
Read or listen to the tale, Lon Po Po: A Red Riding Hood Story from China. Name the differences and similarities between this and the story, Little Red Riding Hood.