Aesop's Fables Scavenger Hunt
< back to list of Scavenger Hunts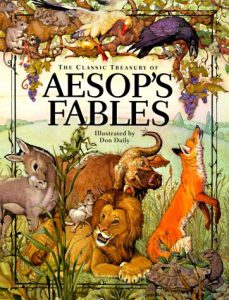 Welcome to our online Aesop's Fables themed Scavenger Hunt! Here is what you need to do to enter:
Use the Montgomery County-Norristown Public Library's Online Resources to find the answers!
Take a screen shot or photo showing the answer in an MC-NPL digital resource and E-mailing the image to jhoey@mclinc.org .
You will find our databases on our web site: www.mc-npl.org  under eResources. The person who gets the most answers right will be awarded two raffle tickets towards a 23&Me Ancestry DNA kit which will be awarded on September 1st, 2020.  Have fun and Good Luck!
Aesop of Aesop's Fables lived in Greece as a slave. Find the database and complete the first lesson in Ancient Greece and show your progress.
Where was Aesop originally from?
What was the moral in Aesop's tale: The Fatal Marriage?
Aesop's fables often revolved around clever animals outsmarting humans and other animals. One of the animals he told us about was the wolf. Can you find and read a non-fiction picture book on wolves and give 5 true facts from it?
Find and read Aesop's Fables