< back to Recommended Online Resources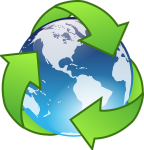 American Coalition for Ethanol (ACE)
http://www.ethanol.org/index.php?id=7
Promotes the use of ethanol in the United States.
American Solar Energy Society—Do-It-Yourself-Solar
http://www.ases.org/do-it-yourself-solar/
Resources and projects for solar energy.
American Wind Energy Association (AWEA)
http://www.awea.org/
News, events, factsheets, and resources about wind energy.
Clean Air Council
http://cleanair.org/
Offers ways for improving indoor and outdoor air quality.
Climate Change
https://www.epa.gov/climate-indicators
The United States Environmental Protection Agency's Climate Change website provides extensive information for the public on the science, effects, and policy of climate change.
Earth Day Network
http://www.earthday.org/
Coordinates Earth Day events and promotes environmental global activities yearlong.
Earth 911
http://earth911.org/
Comprehensive recycling information and directory.
Electric Auto Association
http://www.electricauto.org/
History, forums, and a newsletter dealing with electric vehicle technology.
ENERGY STAR
http://www.energystar.gov/index.cfm?c=home.index
This website maintained by the United States Environmental Protection Agency and the United States Department of Energy provides advice on energy efficient products and practices for homes and businesses.
ENERGY.GOV
http://energy.gov/energysaver/energy-saver
Consumer information from the U. S. Department of Energy.
Environmental News Network (ENN)
http://www.enn.com/
Daily environmental news.
Geothermal Education Office (GEO)
http://geothermal.marin.org/
Resources for geothermal energy.
Glass Packaging Institute (GPI)
http://www.gpi.org/
Glass container recycling information.
The Green Guide
http://www.thegreenguide.org/
Advice for green living with product reviews.
Green Vehicle Guide
http://www.epa.gov/greenvehicles/Index.do
Compare the environmental performance of vehicles with this site from the United States Environmental Protection Agency.
GreenerChoices.org
http://greenerchoices.org/
This website maintained by the Consumers Union offers green ratings for products.
The Internet Consumer Recycling Guide
http://legacy.obviously.com/recycle/
How to recycle common and uncommon materials.
Montgomery County, Pennsylvania Recycling Information
http://www.montcopa.org/index.aspx?nid=637
This official county website provides a recycling guide and newsletter, programs, and schedules.
Municipality of Norristown: Trash Collection & Recycling
http://www.jpmascaro.com/services/municipality.aspx?id=87
Rules about trash and recycling for Norristown, Pennsylvania residents. Includes a zone map for collection days.
Pennsylvania Department of Environmental Protection
http://www.depweb.state.pa.us/
Find air, energy, land, and water topics and more on this site.
Pennsylvania Wind Working Group
http://www.pawindenergynow.org/
Resources to develop wind projects for consumers and landowners.
Pennsylvania's Recycling Page
https://www.dep.pa.gov/Business/Land/Waste/Recycling/Pages/default.aspx
The Pennsylvania Department of Environmental Protection maintains this website to provide extensive information on what and where to recycle.