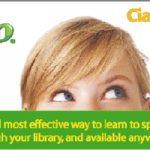 The Mango Language Database helps you learn or improve your foreign language and English language skills.
Please join us for the following regular programs at the Main Library:
Scrabble for Adults – Every Wednesday at 5pm – Community Room
Senior Film festival – Every 2nd Wednesday of the Month – 1pm Board Room
Upcoming movies:
On October 8 is "Cocoon"
On November 12 is "Castaway"
on December 10 is "Four Christmases"
Book Discussion Group – every 3rd Saturday – 2pm Board Room – This group of avid readers led by Dr. Harold W. Halbert, meets every 3rd Saturday of the month at 2 p.m. New members are welcome. The following are the upcoming titles, not necessarily in this order. Copies of the book(s) to be discussed will be available at the front desk at the Main Library.
The group will meet On September 20, 2014
September – "The Woman Upstairs" By Claire Messud
October – "The Light Between Oceans" by M.L. Stedman
Great Books Discussion Group – 2nd Tuesday of every month – 2pm Board Room -New members are welcome. Please call Shirley Miller before attending your first meeting at 610-272-4179
Teen Game Night – Every Tuesday and Friday from 4-5pm teens may play video and board games in the community room.