Text to Speech Converter
The Aladdin Ambassador Pro is a voice output reading machine designed for use by individuals who are blind or have low vision. This system uses optical character recognition (OCR) technology to convert text from books, magazines, and other printed materials to high-quality speech. Please call the Reference Department for an appointment to use this machine. 610-278-5100, ext. 114
Desktop Video Magnifier
This machine, which is housed near the Microfilm machines, makes for easy reading of a wide variety of printed material, including numbers in the phone book, labels on prescription bottles, tiny printed contracts, bills, and much more. An expensive machine to own privately, it is yours to use for free at our library!
Kurzweil kReader Mobile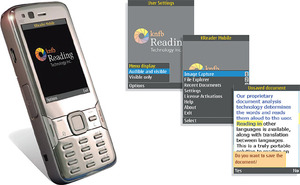 Kurzweil Readers empower visually challenged individuals who wish independent access to materials in standard typeface, wherever and whenever they happen to encounter them.  Personal instruction in operating the Reader can be scheduled by speaking to a staff member of the library. Call 610-278-5100. Funded by a grant from the Child Development Foundation.
Screen Readers
JAWS Computer

The Regional Education Assisting Life Long Learning program, or "Get REAL", of the Institute on Disabilities at Temple University donated this computer workstation which has special screen-reading software called JAWS. JAWS is the world's most popular screen reader, developed for computer users whose vision loss prevents them from seeing screen content. JAWS reads aloud what's on the PC screen and gives the user a unique set of intelligent tools for accessing web pages and reading all screen content. Please call the Reference Department for an appointment to use this computer. 610-278-5100, ext.
NVDA
NVDA (NonVisual Desktop Access) software is installed on computers in the Computer Lab. It is a screen reader for the Microsoft Windows operating system. Providing feedback via synthetic speech and Braille, it enables blind or vision impaired people to access computers running Windows. Users need to bring their own headphones.