Summer Reading at the Main Library

Creating a Community of Readers, One Child at a Time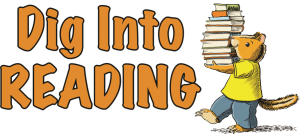 June 15 through Aug 17
Read to earn prizes!  Programs and activities for ages 0-12!
How Does It Work?
Children are encouraged to read at least 20 minutes each day. For every 2 hours that a child reads or is read to, both a prize and a raffle ticket are earned.
While quantities last, the initial prize that a child will earn is a Dig Into Reading t-shirt.
After that, it's BOOKS, BOOKS, BOOKS!  Start or add to your home library with a wide selection of books for ages 0-12 —board books, picture books, early readers, chapter books and nonfiction books.
Also, each child may fill out a raffle ticket for one of the grand prizes being raffled at the end of the summer.  Every 2 hours of reading earns a child one chance to win.
GRAND PRIZES:   (4) Bicycles
      (20) $25 Barnes & Noble Gift Certificates
How Do I Get Started?
Beginning Saturday, June 15, stop by the library, fill out a Summer Reading registration card and pick up a Dig into Reading! bag that includes a listing of all summer activities, a Dig Into Reading! pencil, temporary tattoo, bookmark, and a reading log to keep track of your reading each day.
Color a square on the reading log for every 20 minutes read.  When you have 2 hours logged (6 squares colored in), bring your reading log to the Children's Department to receive a sticker on the "prize" square of your log.  You may then choose your book prize and fill out a raffle ticket for one of the grand prizes.
What Programs Do You Offer?
Dowload a pdf of our brochure in either English or Spanish.
Summer Reading 2013—English
Profundiza la lectura 2013 – Español
Interested in attending a program or event that requires registration?  Come in and see us in the Children's Department or give us a call at 610-278-5100 x3.
The Children's Department of Montgomery County-Norristown Library wishes to thank the following local business for providing the funds to support the 2013 Summer Reading Program: Teva Pharmaceuticals, First Priority Bank, and Continental Bank.