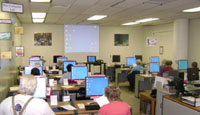 The Computer Lab at the Montgomery County-Norristown Public Library
1001 Powell St., Norristown, PA, 19401
610-278-5100, ext. 141
Welcome to the Computer Lab Page!
The Computer Lab is on the first floor of the library, next to the main Circulation Desk. We have 16 computers at comfortable sit-down workstations. We are open for public-access computing during the same hours as the library is open with the exception of the last half hour of each day. There are occasional closures for computer classes. When you come by, ask us for a handy wallet-size schedule of lab closures.
Our computers are running Windows 7 and have Microsoft Office 2010 installed. Black and white printing is available for $.15 per page for text, $.50 or $1.00 for pictures, depending on size. Bring your own headphones to listen to audio content. Sorry, we do not have a scanner or a FAX machine. More information about our computers
To use the Computer Lab, you'll need a library card in good standing, meaning no overdue materials or fines. You will need an internet sticker on your card, given at the main Circulation Desk. If you forget your card or are just visiting for the day, with proper I.D. you can get a day pass. You are guaranteed at least one half hour on a computer. When we are busy, users are rotated out depending on who has been using a computer the longest. If you get rotated out, you can come back in a half hour. We don't limit how many times you can come back.
Normal Lab Hours
Mon-Thurs: 9-7:30
Fri: 9-5:30
Sat: 9-4:30 (10-1:30 during summer)
Questions? Email the Computer Lab at mcnplcomputerlab@gmail.com
More Information
Computer Lab Frequently Asked Questions
Other Services
Relevant Policies
Computer Lab Rules and Regs
Acceptable Internet Use Policy
Children's Internet Protection Act