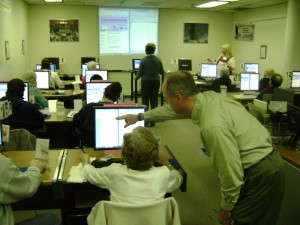 Computer Classes @ the Main Library
Computer Classes are held in the Computer Lab at the Main Library.
In today's world, a lack of computer knowledge can be the difference between getting a job and being unemployed or can impair you from communicating with those far from you. Our classes can help you bridge that divide inexpensively and without a huge time commitment. Day and evening classes are available to fit into anyone's schedule. Our classes are designed to address the needs of the true beginner to those looking to improve their skills by brushing up on File Management, Microsoft Word and Microsoft Excel. Our instructors are waiting to bring you into the world of Computers! Just show us your library card (free to all Montgomery County residents) and we'll be happy to show you how to start learning today!
Please consult our Course Descriptions and Schedule for a description of our courses, including dates and times they will be offered in Fall 2015, as well as information about how to enroll.
We have an extensive collection of material to support our classes. Our computer lab environment is a fairly locked-down version of Windows 7 and we run Microsoft Office 2010. While the materials are optimized for instruction and learning in the computer lab, many of the concepts can be transferred to other Windows computers which might be configured slightly differently. Feel free to take a look at our Class Resources if you would like to get a more comprehensive picture of what we teach. Included are lesson plans, supporting files and exercises.
Please visit our Frequently Asked Questions page for additional information about taking our classes.