This is a specialized vehicle that provides story times and book selection to groups of preschool children in day care settings throughout Montgomery County. Every group of children is visited monthly.
For the current schedule and eligibility for the service, contact MC-NPL Bookmobile and Outreach Services Department at 610-278-5100 ext. 7.
---
Book Go Round News
Every Child Ready to Read
The Books-Go-Round truck is in the early literacy business and as in any business we follow best practices.  Five early literacy practices -- established by the Association for Library Service to Children (ALSC) and the Public Library Association (PLA) --  are as follows: * Talking * Singing * Reading * Writing * Playing We attempt to integrate as many of these practices as possibe in our monthly library programs for preschoolers.  Turns out, research supports the efficacy of the activities teachers, librarians and others who work with young children have been doing all along.   Visit  Kent (Ohio) District Library's helpful website  to learn more.
---
PENGUINS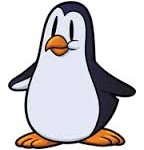 When the weather gets cold our thoughts go to … penguins. Yup. Penguins. They live where it's icy, snowy and chilly. (Except for those South African penguins, of course.) We'll explore the flightless birds this December through books, songs and finger plays. Waddle little penguins!
---