This is a specialized vehicle that provides story times and book selection to groups of preschool children in day care settings throughout Montgomery County. Every group of children is visited monthly.
For the current schedule and eligibility for the service, contact MC-NPL Bookmobile and Outreach Services Department at 610-278-5100 ext. 7.
---
Book Go Round News
LET'S MAKE MUSIC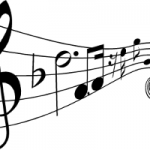 It's time to make some music on the Books-Go-Round! We have just received some brand new instruments and plan to use them. Along with reading lively stories about music, we will make some of our own music with shaker eggs, wrist bells, rhythm sticks and more. Warning: It may get noisy in here.
---
YOUR INPUT REQUESTED
With a new academic year underway, we Books-Go-Round folks want your input.  If there are books, themes and activities you want for your schools, let us know.  Here's to a happy and productive school year.
---