This is a specialized vehicle that provides story times and book selection to groups of preschool children in day care settings throughout Montgomery County. Every group of children is visited monthly.
For the current schedule and eligibility for the service, contact MC-NPL Bookmobile and Outreach Services Department at 610-278-5100 ext. 7.
---
Book Go Round News
Reflections
Last month I did stories with three characters in them (for the third month of the year).  The Three Little Pigs was a natural choice -- well-known by the children so they could join in, and easily made up for felt board sharing.  I was, however, aware that the story could be frightening to some.  One teacher asked that I not tell that story due to the fears of a few children about the Big Bad Wolf.  No problem.  I am always concerned about my audience.  If you have special requests, let me know.  To comment on this or other posts, just click on the titles.
---
Get Your Sillies Out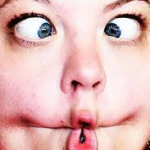 Isn't it a shame that April 1st is only one day?  Not on the Books-Go-Round.  We are celebrating all month with songs about a man in the moon, tongue twisters and lots of stories about silliness. Yay!
---
Pumpkins are Magic
Being the Storyteller on the Books-Go-Round has been an adventure.  Storytime was nothing new for me, but doing it on wheels was. Daunting at first.  But the kids are helping me along.  As one little boy said during a November storytime, "Pumpkins are magic."  I wasn't reading Cinderella or any fairy tales that day, but he knew that pumpkins are magic.  And so are all the stories, songs and rhymes we share.  What a wonderful reminder of the power of stories.
---