This is a specialized vehicle that provides story times and book selection to groups of preschool children in day care settings throughout Montgomery County. Every group of children is visited monthly.
For the current schedule and eligibility for the service, contact MC-NPL Bookmobile and Outreach Services Department at 610-278-5100 ext. 7.
---
Book Go Round News
I AM GRUMPY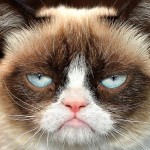 Grumpy. We all feel that way sometimes. No wonder there are so many books about it. We will explore those feelings on the Books-Go-Round truck this month.   Don't be afraid to approach our children's bookmobile if you hear growling, stomping and "Harrumphing" emanating from the truck. We're just being grumpy and we'll get over it.  In time.
---
OUR BOOKS DON'T GATHER DUST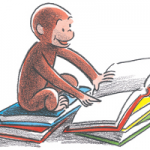 A teacher friend told me recently of a troubling conversation she had with a school administrator.  The teacher, a book lover, was told by the administrator that "books gather dust."  Not on the Books-Go-Round!  Our most recent numbers bear this out.  For the month of October our children's bookmobile visited 72 preschools and day cares.  At those schools, 145 story time programs were presented for 1713 children.  A whopping 2181 books were borrowed by students and teachers.  Our books gather no dust!
---