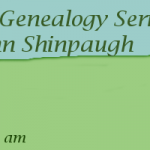 Date: Thursday Oct 9
Time: 11am-12pm
Place: Montgomery County-Norristown Public Library
1001 Powell Street
Norristown PA 19401
John Shinpaugh has been researching his family history since about 1981. His analytical skills acquired during his Air Force career in the field of Intelligence aided him immensely in his successful compilation of several of his ancestor families. Topics will include getting started, surname clarification, problems to resolve, sources of information, migration concerns, and family compilations.