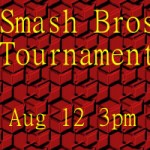 Date: Tuesday, August 12th
Time: 3:00-5:45pm
Place: Montgomery County-Norristown Public Library Community Room
1001 Powell St
Norristown, PA 19401
It's time for another gaming tournament! This time we will be playing Super Smash Bros. Brawl on tournament mode for prizes and bragging rights. There will be snacks and other games available as well. We'll set aside some time for warm-up matches and grudge matches.
Super Smash Bros. Brawl is the Wii's version of the popular series of fighting games. It is preceded by Super Smash Bros for Nintendo 64 and Super Smash Bros Melee for GameCube. In these games, various iconic Nintendo characters are pitted against each other, including various pokemon, Mario and Luigi, and even Fire Emblem's Marth. This game is rated "T" for Teen.
In an attempt to even the odds, we will not be using items in this tournament.
Click here to register for this tournament.