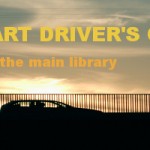 Time: 9:00am-1:00pm
Date: Thursday, September 11th, 2014
Place: Montgomery County-Norristown Public Library
1001 Powell Street
Norristown PA 19401
AARP's Smart Driver's Course
Learn defensive driving techniques, proven safety strategies, and the new traffic laws and rules of the road.
Registration and payment are required for this course. It is $20 for non-members and $15 for members, payable to AARP.
Photograph by John Nyberg