Teens ages 12 – 18 can dive in at the Main Library! We have free events, online and offline which includes Mondays' Crafterhours (4 – 5:30 PM) , "How to" Tuesdays (4 – 5:30 PM), Anime Afternoon Wednesdays (2:30 – 4 PM), and Fridays' Game Day (3:30 – 5:30 PM).
We even have special free events for ages 12 -17 which includes Juneteenth @ the Zoo (June 19, 1- 4 PM), Make Music Norristown (June 21), and ESCAPE the library our escape room (August 9).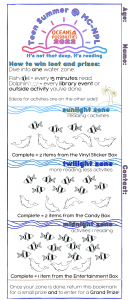 Of course, Teen Summer at the library wouldn't be complete without reading (and more) for prizes! Teens can grab a bookmark at the 1st Floor's Front Desk, choose ONE of the water zones that fits their interests, then finish that zone. Once they finish that zone, they give the completed bookmark back to a librarian at the Front Desk!
Yep, that's it! Each zone has a small prize/loot that they can get the day they return the bookmark. Then they take a new bookmark and start again! To win a Grand Prize gift card, they must put their name and contact info on the bookmark. They can fill as many bookmarks as they would like for more entries to those gift cards! We'll announce the winners of each gift card on Monday, August 15.
Check out our brochure below for our full schedule and prize details:
FINAL Teen Summer @ MC-NPL 2022 brochure
Questions? Suggestions? Email eharmon@mclinc.org or smason@mclinc.org.