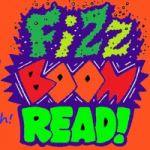 Summer Reading!
REGISTER online at www.mc-npl.org
Reading done now through August 16 counts.
Fizz Boom Read – children birth to age 12
Literary Elements – Ages 13 through Adult
Prizes for reading! Log your minutes and WIN! – www.mc-npl.org
Children – Earn tickets to redeem for prizes every week!  Reading 120 minutes earns you one ticket!
Adults – Write a book review and earn a chance to win a prize each week!