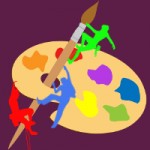 Art Explorers classes are funded through a grant from the Royersford Area Community Chest.
PREREGISTER
July 31, 2:30 or 3:30 (choose just one time slot) – Rods & Rubber Bands
 Grades 1 to 12.  Build intriguing structures from just rods and rubber bands!
View the July calendar flyer for more information or our online event calendar: list view or month view.