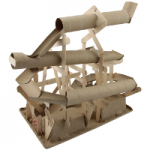 Thursdays from 2:00 – 3:00 pm from June 26 through August 14.
Hands-on learning in STEAM (science, technology, engineering, art and math) for children entering grades 1 to 3. Have fun with magnets, electrical circuits, domino toppling, making a marble run, and more!
Registration required; call or stop by the Children's Department to sign up.