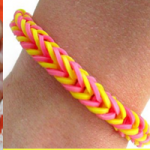 Mondays at 4:00-5:00 pm from June 23 through August 11 for children entering grades 2 to 6 (no class June 30)
Create bracelets and more using parachute cord, yarn, shrinky dinks and rubber band looms.
Registration required; PROGRAM FILLED–WAIT LIST ONLY. call or stop by the Children's Department to sign up.