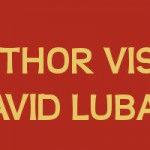 Date: Tuesday July 29th, 2014
Time: 4:00pm
Place: Montgomery County-Norristown Public Library
1001 Powell Street
Norristown PA 19401
David Lubar will be visiting the library this summer to talk about his book, Hidden Talents. There will be a question and answer session, as well as a chance to get your book signed. Those who participate in the book discussion group earlier this month will be well prepared! Books will be provided by the library starting July 1st while supplies last.
(There will be no Game Day on this date)