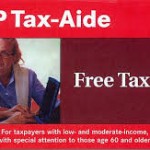 Every Tuesday beginning February 4—April 8
10a.m. to 2p.m.
Since 1968, volunteer-based program has helped nearly 50 million low- to middle-income taxpayers.
AARP Foundation Tax-Aide, an AARP Foundation program, helps low- to moderate-income taxpayers have more discretionary income for everyday essentials, such as food and housing, by assisting with tax services and ensuring they receive applicable tax credits and deductions.
AARP Foundation Tax-Aide is available free to taxpayers with low and moderate income, with special attention to those 60 and older. Through a cadre of trained volunteers, AARP Foundation Tax-Aide has helped low- to moderate-income individuals for more than 40 years in every state and the District of Columbia.
AARP Foundation Tax-Aide is offered in cooperation with the IRS.
You will need to bring the following documents with you to your appointment:
- Government issued identification
- Last year's tax return
- Social Security cards or other official documentation for yourself and all dependents
- Checkbook if you want to do a direct deposit of any refund(s)
- W-2 from each employer
- Unemployment compensation statements
- SSA-1099 form showing the total Social Security benefits paid to you for the year, or Form RRB-1099, Tier 1 Railroad Retirement benefits
- 1099 forms reporting interest (1099-INT), dividends (1099-DIV), proceeds from sales (1099-B), as well as documentation showing the original
purchase price of your sold assets
- 1099-R form if you received a pension or annuity, especially if you had a portion withheld for income tax purposes
- 1099-MISC form showing any miscellaneous income
Call the toll-free number at 888-AARP-NOW (888-227-7669) or visit AARP.org/taxaide.